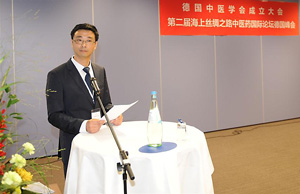 In the course of China's Silk Road Initiative "One Belt, One Road" as well as the strategy of the international promotion of Traditional Chinese Medicine (TCM) and after great progress in the spread of TCM in Duetschland, the TCM Association was founded on 10 September 2016 Chinese doctors' association with a symposium in Dresden. At the same time, the German summit meeting of the international TCM Silk Road summit congresses in Central Europe, as well as the first European training and a forum on dong acupuncture took place.
The main objectives of the TCM Association of Chinese Doctors are the strengthening of the importance of Traditional Chinese Medicine in Germany as well as the aim of a legal claim by Chinese TCM doctors in Germany.
The following aspects will be discussed among others. taken into consideration:
The promotion of academic exchange between TCM practitioners in Germany, the ongoing raising of the level of medical treatment by TCM
The optimization of cooperation with the affiliated Hospital of the Nanjing University of Traditional Chinese Medicine and other associations and persons
As well as the organization of regular specialist lectures and specialist discussions.
The increase in the level of treatment with TCM as well as the increase in the influence of the association are to be promoted in particular by the following activities:
Regular academic events, non-profit lectures and the free treatment of patients
Identifying new entry chances for TCM
The active participation in the management of TCM in Germany
The interaction with other academic groups in Germany and the neighboring countries, in particular with physician-like groups in Germany.
A first consensus with the affiliated Nanjing University Hospital for TCM has already been achieved. It is planned to set up a TCM cultural exchange center in Germany and to apply for a recognized national project with the aim of establishing a German-Chinese TCM center.
At the meeting participant organizations and individuals are i.a. The TCM, the TCM International Association for TCM, the Chinese Embassy in Germany, the Nanjing University Hospital for TCM, the Saxon State Government, the Dresden City Council, the Chinese TCM Association, the British TCM Association, and certified Chinese doctors Clinics and German hospitals.